Description

More time eating, less time cleaning


It's the simplest of gadgets: a sturdy wooden handle joined to a twist of stout wire. Looking at it, you'd hardly think "that's going to mix up a huge bowl of batter with ferocious ease and efficiency!" And yet - it does! The Otto's Naturals Danish Whisk makes mixing up even the thickest of batters an absolute BREEZE. It is so much better than a spoon that you just have to experience it for yourself! 

Bonus: It's so easy to clean! Our Dutch whisk features professional grade stainless steel with a secure and comfortable wooden handle. Miraculously, dough will not get stuck in the wire or gather in impossible to clean clumps. Simply hand wash and move on to more important things-- like eating your delicious creations! Traditionally, this whisk was used for making bread, but, truly, it is the tool of all tools for any recipe and our FAVE for brownie batter! 

More Info

FREE SHIPPING ON ORDER OVER $50

** OTTO'S NATURALS PRODUCTS PURCHASED ON THIS SITE ARE NOT FOR RESALE. FAILURE TO COMPLY COULD RESULT IN LEGAL LIABILITY - WHEN ON SALE OR USING A COUPON CODE THERE IS A LIMIT OF 6 ITEMS TOTAL IN YOUR CART.
Customer Reviews
Write a Review
Ask a Question
12/25/2022
Suzanne M.

United States
Beautifully made
This wisk is big quality material. Sturdy, smooth made the wire is also sturdy and well made. It does wash great. I've yet to tackle some tough batter. Can't wait to try it!
10/16/2022
Rachel G.

United States
Kitchen tool staple
This whisk is great for mixing thick dense batters and i also like to use it for folding.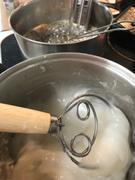 12/09/2021
Adriana N.

United States
Very nice packaging, fast delivery
EXCELLENT, we love Otto's!!